It's common to install some additional accessories like shelves, flower bass, spray rack, etc to enhance the interior beauty of your house. It can be anywhere inside or outside the house like the bedroom, drawing room, kitchen, bathroom, balcony, etc. But, problems happen when you have to install them after your tile fitting completion.
And, when it's about porcelain tiles then no way but to be worried. Because it's quite a stressful matter whether you've to install these accessories without cracking your expensive tiles. Many people even change their decision for further accessory installation to avoid tiles cracking. But, it cannot be a solution!
To remove your tension, we will show you how to drill through porcelain tile without cracking. In our content, you will be guided step by step so that your interior beauty can increase without having any damage.
Porcelain Tiles
Porcelain tile is one of the most popular options to people because of its durability and scratch resistance features. Although the porcelain tiles are pretty expensive, they will add to your personality and your house gravity. Not only that, this tile keeps its water absorption rate at 0.5 % or below that percentage. And, it is generally thick, smooth, and fine-grained compared to other ordinary tiles like ceramic tiles on the market.
So, you must want to spend your money on the best tiles so that your investment gets its value. And, once you invest in such an expensive material, you'll never spoil your money by cracking or damaging them. Right? So, let's jump into our main section where you can explore the best ways how to drill through porcelain tile without cracking. Let's begin!
Read Also: How to Drill through Cast Iron
How to Drill through Porcelain Tile without Cracking: Step By Step Guide
In this section of our article, you'll get the 4 best and easiest steps to drill through porcelain tiles. And, we can guarantee if you can follow these steps properly can drill through porcelain tiles without cracking them. To follow these steps, you don't need to be an expert. All you need is your consciousness to proceed. So, why late? Let's see how!
1. Drill with Diamond-Tipped Drill Bit
Although the porcelain tiles come with robust construction, still you need to be conscious while drilling through them. You've to be careful about what tool you use through. In that case, we highly recommend you choose the diamond-tipped drill bit. The diamond-tipped drill bit is one of the fantastic tools that will allow you to drill and grind away the tiles safely.
We recommend this tool because of its extraordinary heat-generating feature. It can generate plenty of heat and come with a water resistance trait to keep the drill bit cool perfectly. So, you can easily create a precise, clean, and neat hole for your accessories installation.
Now, you might have a question about the standard drill, right? Well, the standard drill bit can slip away easily and damage your expensive porcelain tiles. And, it will cause you a huge repairing cost. So, avoid using a standard drill bit while it's porcelain tiles.
2. Mark where You Need to Drill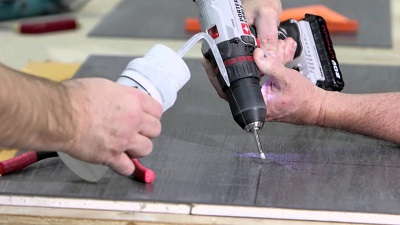 It's an obvious step for you to mark the drilling area with a marker. Marking the area will help you drill in the exact spot. If you don't mark the spot before you drill there, it might be the wrong spot and you've to drill again. As a result, you'll get an unnecessary drilling hole that will look ugly later on.
3. Keep Some Water/ Lubricant Around
While you use a diamond-tipped drilling bit, you can be sure that it won't create any excessive heat. But, to be extra aware, you can keep some water during your drilling time. If the drill bit creates excessive heat, keep watering it securely. The most secure way to use water on your drill bit is a cup. You can use a cup and place water on the drill bit to cool off its heat. A spray bottle can also be another fantastic way to use the right amount of water if needed.
If you want to make the way a bit extra effortless can use lubricant than water. It is because by using water, you can take the heat away but water cannot reduce friction. Cooling lubricant, on the other hand, will offer you both the cooling benefit and also will decrease the friction. Besides, it will enhance the efficiency of your drilling procedure. So, lubricant is getting priority over water. But, go with water if you have a budget problem, and it will be alright.
4. Start Drilling
If you already have finished choosing the right tool and measuring the right spot, you're ready to start drilling. But, the first condition to drill is to be slow and steady. You cannot drill fast if want to get an excellent drilling result in the end.
Then, you've to keep enough patience as it takes quite a long time to break through the upper layers of porcelain tiles. We recommend you to take help from a professional unless you can hold your patience up to the last moment.
Once you've finished breaking the upper layer of the tiles means you're reaching the wall perfectly. Now, you can increase your drilling speed and pressure a little bit more but you cannot exaggerate it.
It is because the drill bit will produce excessive heat in terms of its friction if you go for too much pressure or speed. As a result, it will create access vibration and that vibration will add to the amount of heat. And, this situation will surely crack your tiles. So, you've to be careful about your speed level and keep it under your full control even when reached the wall. Remember to keep your hands steady while proceeding. That's all to drill through porcelain tiles without cracking them! Isn't it so easy?
Read More Similar Topics: How to Drill Through the Carpet Without Snagging
Few More Things to Remember while Drill through Porcelain Tiles
During drilling time you might experience some unexpected situation that can make you puzzled about what to do at that time. Let us introduce you to a few common scenarios that can happen to you even while you are alright in your drilling system. No worries, we'll give you the solutions as well.
Wrong Use of Tool
And the first thing that you must remember is to avoid using the wrong tool like a hammer drill. Or else, it will take you a step ahead of your porcelain tiles cracking.
Drill Can Turn Red
During drilling time your drill can turn red suddenly and you'll get no reason behind it. It happens sometimes due to extra pressure or a machine's blunder. If it happens, stop drilling immediately. It will save your whole process.
It Can Cause You Injury
Drilling through porcelain tiles is pretty tricky for both professionals and non-professionals. So, you should use safety wear like goggles, masks, gloves, etc, while drilling. It will save you from getting hurt by the broken pieces of tiles or other particles.
Drilling on Edge can Crack Your Tiles
While you drill on the edge you need to pay extra attention because drilling on the edge can cause you an easy slip. So, make sure you aren't getting away from the center.
To Wrap Up
Nobody wants an ugly scratch or crack on their tiled wall because replacing tiles is expensive especially when it's about porcelain tiles. So, you need to be well-known in everything related to your tiles drilling job.
We hope, you've got an ideal conception of how to drill through porcelain tile without cracking. You can solve your problem by following only these 4 steps mentioned above. Once you recognize the right tool and the process of drilling, you can make your drilling job successful.