By mistake, we can lose the master lock key of our office or house. Many have faced such moments. In such a situation you have to make a decision through which you can easily open your master lock. But how to drill out a master lock? 
The first is drilling off any excess rust that may have accumulated around the plug and barrel of the lock. If there is rust around the edge of your plug or on the edges of your barrel, use an angle grinder with an aluminum oxide blade to remove it.
In this article, I will discuss how you can easily open the lock without damaging the door with the help of a drill. So, let's know the process step by step! 
What Tools Do You Need To Drill Out A Master Lock?
To open a master lock with a drill, you will need a few other things. Using a drill machine, you can open your master lock very quickly and easily.  And the essentials are:
Power drill with a variable speed attachment
In this case, you can opt for high-speed steel (HSS).  Start with a 1/8-inch bit for the initial hole and work your way up to 1/4-inch
A hole punch
A hammer 
A screwdriver 
A plastic sheet 
How To Drill Out A Master Lock: Step By Step 
There are many conventional ways through which the lock can be opened. However, master locks are usually a bit of a hassle to open. In that case, you can easily remove your master lock with a drill machine. 
By following these methods you can easily remove the master lock of your home or office Here are the tricks to drill out a master lock. You have to follow the below-mentioned techniques very carefully then you will be able to open the master lock very easily. 
And of course, be careful not to injure yourself for any reason. Let's know the techniques step by step:
First step
Place the punch first between the outer and inner colors. Now make two or three hard taps with the hammer at the end of a punch. Tap until you see the visible indentation
Second step
Now drill a hole through the lock cylinder using a 1/8-inch drill bit of course. This drilling process is usually used to destroy the pins inside the lock allowing for easy opening of the lock.  Some locks come with five tumbler pins and many come with six or more tumbler pins. The pins are needed to increase the resistance of the drill when you hit the pin. 
Third step
Now insert the blade of the screwdriver into the lock head. Once inserted, turn the screwdriver as you would turn the key. If you complete the drill, the lock will unlock at this point and you can open the door and enter. And if the lock still won't open, you may have to destroy the entire lock cylinder.
Fourth step
Now use a 3/4 inch drill bit to drill the entire assembly. The guy can use a hole saw or expert tubular lock bit to open it. Now when your lock mechanism is destroyed your lock will open 
Things You Need To Remember Before Drilling Out A Master Lock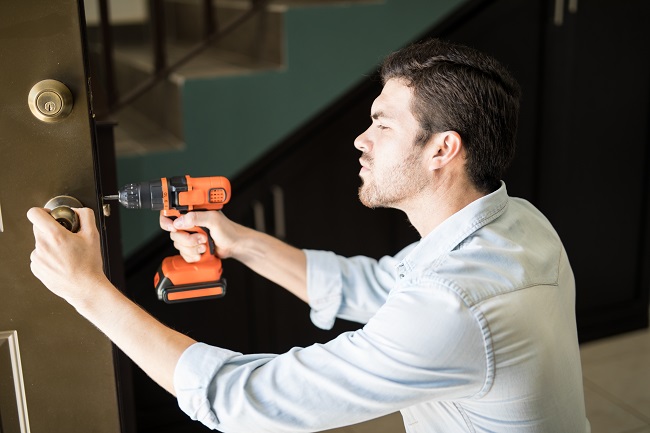 Opening the master lock with a drill can destroy your entire lock mechanism. In that case, before using the drill method, different unlocking techniques should be applied. Using a drill is usually the last resort that we use when unlocking the lock is not possible. So before following the destructive method some things must be tried and they are mentioned below:
If you don't know what type of lock you're dealing with, you can pick the lock using the raking method. 
When you can feel the thick structure inside the lock, it will be easier for you to open the lock
There are some locks that you can open with bumping. Especially in the seventies, locks were easily separated with bumping. 
Insert a bump key two-thirds of the way into your lock and tap the key with a hammer to allow the lock chamber to pop out to open your lock easily.
Using a drill will destroy the entire mechanism of your lock so it means that you will not be able to use the lock again. 
So before using the drill method make sure your replacement has a lock that you can use later
And of course, don't forget to get the owner's permission before using the drill method.  Because it is a destructive process. Therefore, it is important to do the work with the owner's permission 
Frequently Asked Questions (FAQs)
Can you drill out a Master Lock?
Yes of course you can open the master lock with a drill. In that case, the drill will have to be inserted into the lock in a drilling process which will destroy the lock pins and this will destroy the entire mechanism of your lock and open the lock. 
Can opening the lock with a drill cause any damage to the door?
If you use a careful technique to open the lock with a drill, there is no chance of any damage to your door.  But you must take care that the door is not drilled or hit hard.
What tool can break a Master Lock?
A Master Lock's purpose is to keep someone from breaking into a place where they do not belong. But a small hammer can break a Master Lock. It will take a long time, but if you have enough patience, it will work.
Final Words
Hope by reading this whole article you already know how to drill out a master lock. Now, whenever you face such a situation you can easily unlock your lock by following this method. 
But try to keep your lock key carefully so that you don't face such a situation. Hope we have been able to help you with the necessary information. Thank you so much for being with us. Happy drilling!